Main Blog Article Content
5 MIN. READ
If you've driven past a dealership lately, you've probably noticed a shortage of cars on the lot. You may have also seen that used car prices have increased significantly over the past year. While the car buying process might seem daunting in today's market, preparation and research will help you find a great deal on your next new or used car. Let's look at some vital information to help you save money and time before, during, and after the car buying process.
Before you buy
Purchasing the right car for the best price requires preparation and research. Doing your research and being well-prepared is an integral part of the car buying process. It ultimately saves you time and money. In addition, you'll avoid making rash and impulsive decisions while dealing with a pushy salesperson.
As you begin the auto buying process, the first areas you'll need to research include your finances, budget, credit history, how to get pre-approved and what you want in a car.
1. Finances and budget
Organizing your finances and setting a budget are the first things you need to do before you can determine a car sales price you are comfortable with. First, add your income and recurring monthly expenses to set a budget, then compare them. If your expenses exceed your income, identify any unnecessary costs you can reduce or omit. If you need further assistance creating a budget, check out this
free online budget calculator
to get you started.
As part of your budget, don't forget to include additional monthly expenses such as insurance premiums, routine maintenance, and fuel costs.
Insurance premiums. On average, car insurance premiums for minimum coverage are around $1,123 per year. However, bonuses and ranges vary between companies, by state, and by type of car and driver. For instance, you'll pay higher insurance premiums when adding your teenage son as a driver on your insurance policy, especially if you're adding a sports car to your policy. Therefore, shop around and request quotes for car insurance before you decide what type of car you'll be purchasing.
Maintenance costs. The cost of essential maintenance services varies from car to car, and you'll need to incorporate these added expenses into your budget. At the very least, you'll need to keep up with routine oil changes and tire rotations. Typically, factory-recommended maintenance services are scheduled approximately every 3,000 - 5,000 miles, depending on your driving habits. However, the price of an oil change and recommended maintenance will differ on the type of car.
Fuel expenses are increasing. Gas prices have spiked, and you've been paying more at the pump. This is an excellent time to examine your driving habits and estimate how much more fuel expenses you'll need to add to your budget. This information can help you decide whether to purchase a compact, fuel-efficient car with a 13-gallon tank or a Super Duty truck with a 48-gallon tank that runs on diesel.
2. Check your credit
Have you reviewed your credit report, and do you know your credit score? With good credit, you'll qualify for lower interest rates and save money. You will also have better chances of getting pre-approved for your car loan.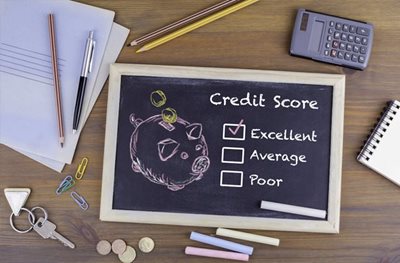 To check your credit report, you can request a free annual copy from
AnnualCreditReport.com
. Review your credit history, and take this opportunity to make improvements or dispute incorrect information on your credit report.
*Bonus:
Click here
for tips on how to improve your credit score before applying for a car loan.
3. Get pre-approved
With your finances, budget, and credit in order, it's time to shop around for a pre-approval. The basic steps in the pre-approval process include submitting an application with a lender, providing your employment and income information, a loan amount, and the payment term you're requesting.
During the process, lenders review your credit and finances for creditworthiness and determine a pre-approved offer. Each lender you apply with will make a hard credit inquiry, which will appear on your credit report and affect your score. However, since you're shopping around for the best pre-approval offer, inquiries made within 14 days will only reflect once on your credit report.
Also, keep in mind that each lender has a different process, and the time it takes to receive a pre-approved offer will vary. Sometimes you can receive an offer instantly, on the same day, or even within a few days.
4. Decide what you need vs. what you want
With a pre-approved offer, you are ready to make a purchase and negotiate. Plus, you'll have added leverage you can use to get a better deal. Once you have your pre-approval, it's time to start shopping. As you shop around for cars, you'll notice the price will vary. So, consider what features you need and if you want a new or used car. If your ideal car exceeds your pre-approval, consider trading in a vehicle to offset what you want.
Features. Today, most cars come with standard features such as front and rear sensors, a backup camera, blind-spot monitoring, and lane assist. In contrast, other features come with an added cost, such as a sunroof, remote engine start, or heated seating. Therefore, consider what features are standard for you and what you're willing to pay for.
New or used? Recently, used cars have been in short supply, and prices have gone up, making them comparable to a new car. For example, the new 2022 Hyundai Accent is about $17,690 on Edmunds, and a used 2021 Hyundai Accent is $18,499. Besides the price of the car, new cars come with a full factory warranty, while used vehicles may or may not have any remaining warranty coverages.
Trade-in values. Most consumers trade in an older car for a newer one, but before you tell the dealer you want to trade in, research the value of your vehicle. When you know the value of your vehicle, you can decide if it's best to sell your car on your own, or you can negotiate a better trade-in offer with the dealer. You can look up the value of your car online at Kelley Blue Book.
During the car buying process
Negotiating is part of the car buying process, and if you negotiate well and understand what you can and can't negotiate, you'll ultimately get a better deal on the car you want.
To negotiate the best deal, get pre-approved and do your research before heading to the dealership. While a pushy salesperson can be intimidating, negotiating the best deal doesn't have to be challenging if you do these things:
Shop around so you know what to expect. Don't just stick to one dealer; visit several dealerships and ask for the prices and features of the car you want, and use this information to negotiate a better price match. You can even shop online.
Gather your documents. Since many dealers are experiencing inventory shortages, make sure you're prepared with all the necessary documents in case you need to act quickly. The primary documentation you'll need is a driver's license, insurance coverage, down payment, and pre-approval documentation.
Ask questions. Don't hesitate to ask the dealer questions and ask for a breakdown of the sales price and the cost of all add-ons, features, and warranty coverages. If you are trading in a car and have already researched the trade-in value, ask the dealer for their best offer. And ask the dealer about any repairs for a used car or anything unusual you notice during a test drive.
Don't go over budget. Be persistent with the vehicle you want. Salespeople are very persuasive, so don't let the dealer overwhelm you and push you into a car that exceeds your budget. Remember, this is a business transaction, and your goal is to get the best deal for the vehicle you want that's within your budget.
After buying a car
Now that you've negotiated the best deal and purchased the right car, there are a few more essential things you'll need to know before driving off the dealer's lot. Before you drive your new car home, don't forget to do a visual inspection and get your registration paperwork and any dealer's warranty and maintenance package information.
Inspect the vehicle with the salesperson. Before driving off the lot, do a visual inspection and use a checklist to note anything you find. Even if it's a new car, inspect the exterior for any dents or scratches and ensure the interior features and controls are functional.
Get temporary tags, registration, and insurance. Before driving off the lot, make sure your car has temporary tags. Also, keep a copy of your auto registration paperwork and add insurance to the vehicle. Finally, store your vehicle registration and proof of insurance in the glove box or another compartment for easy access.
Understand the maintenance, warranty, and service. Keep up with routine maintenance to keep your car running smoothly. New cars typically have bumper-to-bumper warranty coverage for a specified amount of time. Protect your vehicle investment and consider purchasing additional insurance coverage such as Guaranteed Asset Protection (GAP) and Mechanical Breakdown Protection.
With research and some preparation, you can get the right car at the best price. And with
Power Financial Credit Union
, you can save even more thanks to our
VIP car buying service
and affordable car loan rates. As a member, you can also get discounted rates on auto insurance, Mechanical Breakdown Protection, Guaranteed Asset Protection (GAP) and Depreciation Protection Waiver
insurance
to protect your investment.
Visit us online or at any of our locations in South Florida and get pre-approved for your next car. Power Financial Credit Union proudly serves almost 35,000 members and provides 24/7 access to banking services from anywhere via a mobile device and online banking.