Main Blog Article Content
5 MIN. READ
How can you protect yourself from common hoaxes? If you receive suspicious calls, texts, or e-mails, you're not alone. Technology and the pandemic have combined to create a surge in consumer scams. In the first three quarters of 2021, there were
2.1 million reports
of fraud made to government agencies—as many as was reported in all of 2020. In fact, half of Americans now report receiving six or more suspicious messages a week.
Scammers are getting more sophisticated too. The wide proliferation of digital technologies has encouraged organized criminal organizations to engage in mass scamming campaigns. These are professionally organized operations with offices, employees, and lead lists purchased from other criminal groups.
Fortunately, there are steps you can take to learn about various scams and how to keep your money safe. So how can you protect yourself from these common hoaxes? Read on to learn more.
5 Types of Common Scams
1. Imposter Scam
In this all-too-common scam, someone calls and represents that they're a government agent or perhaps a utility company employee. They insist
you owe money
, such as back taxes or your electric bill. They threaten you with jail time, heavy fines, or immediately shutting off your power unless you make an immediate payment—scary stuff.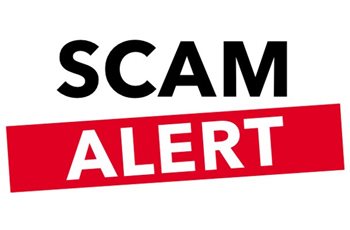 The two red flags here are that government agents don't contact people by phone and that the scammer will usually demand payment by gift card, which a legitimate business or the government would never do.
The best thing to do is recognize the signs of a scam and hang up immediately. If you're concerned, contact your utility provider or the agency involved to verify.
2. ​Fake Shopping Website
The internet is ablaze with ads touting a better deal on the latest products you viewed. It's important to pay attention to what you click and the URL address of the website you're visiting.
A frequent scam is
to direct a shopper
to a well-known online retailer—for example, you may click an ad and end up on tar3et.net when you thought you were on Target's website. You may proceed to purchase an item and then receive either counterfeit goods or nothing at all.
How can you protect yourself from these common hoaxes? It's important to look out for suspicious URLs or website pages that don't look just quite right. If something doesn't seem right, do a quick online search.
If other customers have fallen for the online trap, chances are someone wrote a review about their experience. A little research could potentially save you money and heartache.
3. Digital Payments Scam
The
pandemic
normalized a lot of payment apps like
Zelle
or Cash App. People love the easy ability to send their friends money for the meal they just split or even pay bills to legitimate businesses. Unfortunately, most of these transactions are irreversible, which makes them a favorite for criminals.
Payment apps like Zelle act like a digital wallet, where you can send money directly to someone from your bank account or credit card. You only need their phone number or email address to pay them, making the transaction incredibly convenient. It's caught on, too, as more than 100 million people use Zelle to transfer almost $500 billion every year.
There are all sorts of scams
around payment apps
. The general method is convincing you to send money to the scammer. Often, the scammer will impersonate a legitimate person or company, claiming you owe them money. Once you've hit send, there's no reversing that transaction. It's not possible to get the money back, and banks usually won't reimburse you for the transaction.
The best way to protect yourself is to be educated about these types of scams and only send money to trusted users you know. Also, try to avoid opening suspicious messages, use good password protection, and be wary of requests for money or payment details. To find other ideas on how you can protect yourself from internet hoaxes, click
here
.
4. Investment Scam
Another common scam involves some kind of too-good-to-be-true investment pitch. Usually, these are cold calls or online ads for exciting new investment opportunities. Unfortunately, this is usually just a more sophisticated way to get you to send money over a payment app or with digital currency. Once the money is sent, it's gone forever.
The easiest way to avoid these scams is to be aware of the red flags and investigate the person making the offer. Legitimate investments don't require payment by unusual methods, promise large or fast returns, or come completely unsolicited. It's also important to find out about the person on the other end. Scammers rarely have the credentials a legitimate investment professional would have.
5. Lottery Scam and Phishing
In this type of scam, you're contacted by email or text and informed you won some kind of lottery or sweepstakes. Typically, the scammer will ask for your bank account where they can deposit your winnings. They may even ask for your credit card to pay a processing fee to complete the transfer.
Fortunately, this should be an easy one to catch. If you didn't enter a lottery or sweepstakes, then you didn't win one. Even if you have entered one recently, remember that legitimate operators don't ask for processing fees or bank account information.
Here's another common scam that can be hard to tell apart from the real thing -- it's called phishing. In this one, thieves impersonate a financial institution and ask you to click a link, which may initially seem harmless. However, once you click the link, malware is downloaded onto your computer, which is used to steal your sensitive personal data.
As digital technologies and payment methods continue to dominate economic activity, these scams will likely grow in frequency and sophistication. It's important to be vigilant, know how you can protect yourself, and work with a trusted financial institution for all your banking needs.
Banking You Can Trust
Now, more than ever, you need a trusted banking partner that is on your side. At Power Financial Credit Union, we are committed to doing all we can to protect your personal and financial information. We leverage industry leading technology and best practices to keep your money and your personal and financial information secure. In addition, we are constantly looking for innovative ways to enhance our security.
If you are ready to become a member, you can
join Power Financial Credit Union
. We are here to guide our members and help you do more with your money. We have almost 35,000 satisfied members and have proudly served the community of South Florida for over 70 years.