Main Blog Article Content
5 MIN. READ
Florida is one of the best spots for RV-ing with its amazing year-round weather, hundreds of beaches, and gorgeous nature preserves. Unsurprisingly, locals and snowbirds enjoy life on the open road or flock to campgrounds and RV parks.
Whether you're in the mood for adventure or would like to experience life in one of the Sunshine State's many RV communities, you should know a few things about buying an RV for the first time.
In this blog, we'll delve into the many enticing benefits of owning an RV in Florida, from coastal getaways to nature-filled escapades, providing you with the ultimate guide to making the most of your RV journey in the land of perpetual summer. So, rev up your wanderlust and embark on a Floridian RV adventure like no other.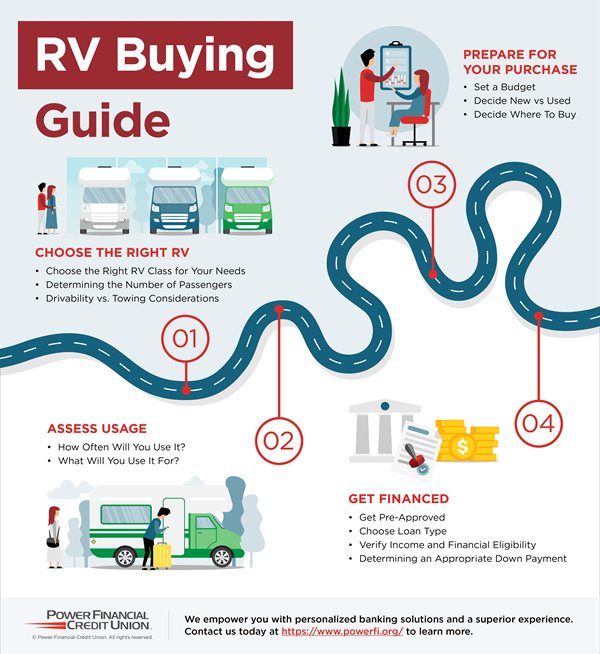 How to Choose an RV
Before going any further, you should narrow down your options based on how you will use your RV.
What Type of RV Is Best for You?
From luxurious Class A RVs to economical Class B models, there is a recreational vehicle for everyone.
Class A Motorhomes
A Class A motorhome can make you feel like a rockstar on tour with its sumptuous amenities and spacious floor plan. These impressive RVs can measure 26 to 45 feet in length and weigh up to 30,000 lbs.
First-time RV owners might need help to maneuver these imposing recreational vehicles, and you'll have to seek RV parks with 50-amp receptacles. However, these motorhomes come with RV benefits like full-size appliances, King-size beds, multiple power options, an entertainment center, and more.
Class B Motorhomes
These small RVs use a van or small truck chassis to create a compact and functional interior. Class B motorhomes are a budget-friendly option with their more affordable price tag and better fuel efficiency.
These vehicles typically weigh 6,000 to 8,000 lbs. and measure 17 to 19 feet.
Class B+ Motorhomes
Class B+ motorhomes are a compromise between Class B and Class C RVs. You can expect a more spacious floor plan and additional amenities, but these recreational vehicles remain compact and economical.
Class C Motorhomes
These popular RVs use a cutaway chassis with an attached cab section. You'll usually have an overhead compartment with a bed or additional storage space over the cab. Class C motorhomes can range from 21 to 41 feet in length.
Towable RVs
Towable RVs include travel trailers, pop-up campers, fifth wheels, toy haulers, and more. Towable RVs are the
go-to option among casual campers
due to their lower price tag and reduced maintenance costs.
Determining the Number of Passengers
If you're buying an RV for the first time, determining the number of passengers can give you an idea of which RV class is best for you:
For a couple, a Class B motorhome is an economical choice.
For a group of three or a couple with small children, a Class B+ RV can be a good fit.
Depending on the size and floor plan, a Class C vehicle can sleep anywhere from four to eight people.
If you're traveling with a larger group, a Class A RV will deliver a luxury experience while sleeping up to 10 people.
Drivability vs. Towing Considerations
Before buying an RV in Florida, you should know that maneuvering a sizeable recreational vehicle in busy cities or narrow country roads can be challenging.
For inexperienced RV drivers, a Class B or B+ motorhome is an accessible option similar to driving a van.
Class A motorhomes and larger Class C models require clearance when turning, making busy urban environments and backroads challenging. However, a Class A motorhome has the added benefit of towing your car behind it so you can remain mobile once you reach your destination.
If you're considering getting a towable RV, you'll have to find out how much your current vehicle can safely tow.
Assessing Your Usage
What kind of RVer are you? Assess your usage to choose the right RV, and consider how your needs might change.
How Often Will You Use the RV?
For some retirees, a motorhome can become a full-time accommodation that gives them the freedom to travel. However, most RV owners use their recreational vehicles for a few weeks or months in the summer.
It can be easier to justify a higher price tag if you expect to use the RV more often or are a few years away from retiring.
Identifying the Primary Activities for Using the RV
Will you primarily stay at RV parks, or do you want to try off-grid living? These considerations will help you determine the amenities and features to look for.
Traveling From Point A to B
If you want to go on road trips and discover new destinations, a smaller motorhome with good maneuverability and gas mileage can be ideal. If you'll spend most of your time in campgrounds or RV parks, splurging for a motorhome with a spacious floor plan and modern amenities makes sense.
Need for Storage Space for Additional Equipment
Assess your storage needs based on the size of your RV-ing party and the trip duration.
You'll also have to account for large items like a generator or solar panels. Plus, you might want to bring kayaks, bicycles, outdoor furniture, a grill, or even a dirt bike.
What to Consider When Purchasing an RV
From budgeting to comparing your financing options, there are a lot of essential questions to answer if you want to buy an RV in Florida.
Setting a Budget: How Much Can You Afford?
RV-ing can help a family of four save
up to 60%
on the cost of a traditional vacation. However, a significant upfront price is linked to purchasing your recreational vehicle.
Prices start at around $40,000 for a compact Class B motorhome, but you can expect to pay $200,000 and above for a luxurious Class A model. You'll also have to include insurance, repairs, and maintenance in your RV budget.
Weighing the Pros and Cons of Buying New or Used
If you're buying an RV for the first time, you might wonder whether a new or used recreational vehicle makes the most sense for your budget.
If you don't mind the higher price tag, a brand-new RV will come with the latest tech, customization options, and a manufacturer's warranty.
A used model costs significantly less, but you should expect higher costs linked to maintenance. Plus, buying a model with undisclosed damage is risky, and some RV parks can limit access if your recreational vehicle is 10 or 15 years old.
For most prospective RV owners, a used model that is a few years old is usually the best value as long as the previous owner keeps up with maintenance and the vehicle doesn't have signs of overloading or water damage.
Where Should You Buy Your RV?
There are several options if you're ready to buy an RV in Florida, including local dealerships, online platforms, and private sellers:
Local dealerships have a varied selection. However, the price tag will cover the dealership's overhead.
Buying an RV online means you won't see it in person, but you can shop around to compare prices and access a huge selection.
If you're shopping on a budget, a private seller typically offers a lower price and even lets you negotiate. However, the seller might keep some things private.
Financing Your Dream RV
When buying an RV for the first time, take the time to research your financing options and choose a loan based on your budget.
Should You Get Pre-Approved for Buying an RV?
Getting pre-approved isn't a hard requirement, but it shows the seller you are serious. Besides, you'll find out how much RV you can afford and get an idea of how much you'll spend on interest.
Understanding RV Financing Options
RV owners typically finance their recreational vehicle with one of two options:
A secured recreational loan uses your RV as collateral. This option helps you save on interest and comes with longer payment terms.
A personal unsecured loan can be realistic if you have a strong credit score. You'll pay more interest but won't have to use your RV as collateral.​
Verifying Income and Financial Eligibility
Requirements vary from one financial institution to another, but lenders will typically consider these factors:
Your income and employment history. If you're retired, the lender will look at your savings and expected payouts.
Your debt-to-income ratio. Even if you have a substantial income profile, a high level of debt can make repaying your RV loan difficult.
Your credit score and credit history. You can secure lower interest rates by improving your credit score before financing a significant purchase.
Determining an Appropriate Down Payment
Making a down payment on your recreational vehicle reduces the amount you are financing and the risk the lender takes. A sizeable down payment usually makes you eligible for a more advantageous interest rate.
Requirements vary from one lender to another, but it's common to see financial institutions asking for a 10 to 20% down payment on secured RV loans.
Step-By-Step Process for Getting Pre-Approved
Follow these steps to get pre-approved for an RV loan:
Reach out to the financial institution of your choice or fill out an online application.
The loan department will get back to you and ask for supporting documentation that shows your income and debt level.
The financial institution will run a credit check.
You'll get a pre-approval letter with the amount you can finance and interest rate.
You can then shop for an RV. Once you find the right vehicle, the financial institution will draft a loan agreement. The interest rates and terms can vary from the pre-approval letter based on the value of the RV you're financing.
The next step is to sign the loan agreement. Your lender will then issue the funds so you can purchase the RV.
Required Information for the Pre-Approval or Financing Application
Save time by gathering the information your lender will need to review your application for financing:
You must establish your identity with an ID, SSN, and address.
The lender will ask for proof of income and information about your employer.
The lender will likely ask for statements from your retirement accounts if you're retired.
You'll also have to prove you have the funds for your down payment by showing a bank statement.
Your lender might ask about any existing loan or credit card payments.
Once you have found the right RV, you'll have to provide your lender with information about the vehicle, including the year, make, model, and selling price.
Other Considerations
If you're buying an RV for the first time, there are a few things to remember.
Test Driving and Inspecting the RV Before Purchase
Just like with a car purchase, you'll want to inspect and test drive your new recreational vehicle before making an offer.
Here's what to look for during the test drive:
Take the RV on different roads. Get a feel for its maneuverability, and ensure you're comfortable driving it on the highway.
Pay attention to the visibility, power steering, and suspension. These details are essential when driving long distances.
Watch out for any unusual noises or shaking that could indicate technical issues.
You should also take the time to inspect the interior and exterior of the vehicle:
Check areas with plumbing and windows for signs of leaks and water damage.
Inspect the roof. Vents and skylights should have proper sealing.
Get under the RV and look for signs of leaks. Make sure the holding tanks are in good shape.
Bring a small appliance so you can test the power.
Inspect the trailer coupling elements.
Shine a flashlight into the different storage areas. Everything should be clean with no signs of humidity or pests.
Finding the Right Place To Store Your RV
Where will you keep your RV during the off-season? The most affordable option is to keep it on your property, but you might have to invest in a carport or upgrade your garage.
Storage facilities are another option, but costs can vary depending on whether you'll store your RV in a covered area.
Consider a smaller motorhome to save on storage costs, or look into purchasing an RV site at your favorite RV park to save on storage in the long term.
Special Licenses and Insurance Requirements for Driving an RV
Florida's
minimum auto insurance requirements
apply to recreational vehicles. You'll have to purchase at least $10,000 in Personal Injury Protection coverage and $10,000 in Property Damage Liability Coverage. If your RV is collateral for a secured loan, your lender will likely have additional insurance requirements to meet.
If you opt for a towable RV, your auto insurance policy should cover your trailer or camper.
The state of Florida
waves any special license requirements
for RV owners. Remember that some states require you to obtain a CDL to drive an RV over 26,000 lbs.
Understanding Long-Term Maintenance Costs
RV ownership entails minor repairs and regular maintenance to keep your motorhome in good shape. Expect to spend money replacing filters, fluids, brakes, and various sealants for the roof, windows, doors, and slide-out.
Your RV's waste-water system and the built-in generator will also require maintenance, and you'll need to purchase a new battery every three to five years. Replacing the tires will set you back a few thousand every three to six years.
Keeping up with these maintenance tasks will prevent more expensive repairs and help your RV retain its value.
Buying an RV With Power Financial Credit Union
At Power Financial Credit Union, we aim to offer accessible RV financing options to everyone. We provide recreational loans with up to 100% financing and terms of up to 180 months. Our competitive rates help you save on the cost of RV ownership, and we offer fixed and variable options. If you already have an RV loan, we can refinance it.
As a credit union, our mission is to pass on savings to our members in South Florida and make financing an RV easy to navigate.
Are you ready to take the next step in your journey to RV ownership? Learn more about our
RV loans
and start with our convenient online application process!